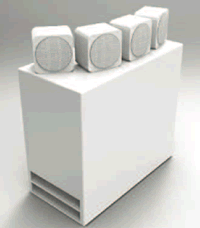 RubiQ è un sistema ultracompatto a 2 vie composto dal subwoofer passabanda SUB28 e da quattro satelliti Qube3.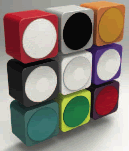 Il sistema RubiQ è stato progettato per operare in ambienti di piccole e medie dimensioni che richiedono sonorizzazioni di alta qualità e un design elegante.
Il subwoofer SUB28 è costituito da 2 altoparlanti da 8" a lunga escursione montati in un mobile bass reflex a carico simmetrico progettato dalla Audio Performance.
I satelliti Qube3 sono costituiti da un altoparlante da 3" a gamma intera alloggiato in un elegante mobile di legno.
In perfetto abbinamento con una grande varietà di decori e allestimenti, il RubiQ è disponibile in diverse colorazioni opzionali oltre al bianco e al nero di serie.
E' inoltre possibile richiedere una differente colorazione per la griglia di protezione e/o il mobile in modo da coprire una più ampia gamma di esigenze stilistiche.
RubiQ funziona perfettamente anche con soli due satelliti Qube3 nonostante il sistema sia stato progettato per pilotare quattro satelliti.
Ideali per: Ristoranti - Bars - Hotels - Negozi - Teatri - Home Hi-Fi
Qualità del suono Hi-Fi - Design elegante. Disponibile in versione Passiva o Self-Powered in tutti i colori.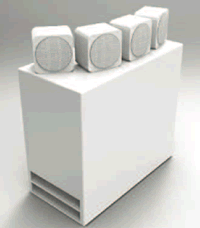 Active or Self-Powered, RubiQ System is an ultra compact 2Way System composed of one SUB28 Band-Pass Subwoofer and four Qube3 satellites.
RubiQ System is design to operate in small to medium size indoor installation requiring high quality sound and stylish design.The SUB28 Subwoofer consists of two long excursion 8" cone driver mounted in a proprietary isobaric band-pass enclosure.The Qube3 consists of one 3" full range cone driver mounted in a wood fashion enclosure.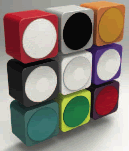 To perfectly much with a wide variety of decors, RubiQ System ia available in white, black or any custom colour as an option.
The grill and the housing could be painted in different colours to perfectly match customers requests.
RubiQ can play with two Qube3 only and the System can be ordered in two or four Qube3 configuration.
Specifications
{tab= Specifiche Acustiche |grey}

Risposta in frequenza........................ 42 Hz - 22000 Hz (+ 3 dB)

SUB28: ........................................... 42Hz - 180Hz,

Qube3: ........................................... 180 Hz - 22000 Hz

Risposta della fase............................ 350 Hz - 10 kHz (+/- 45°)

Picco massimo SPL........................... 118dB

Copertura........................................ Orizzontale: 100°

{tab= Trasduttori |grey}

SUB28............................................ 2 x 8" altoparlanti a bassa distorsione e a lunga escursione Impedenza nominale.................... 4 ohms

Potenza applicabile.......................... 120 W RMS (AES)

Qube3............................................ altoparlante 3" a gamma intera

Impedenza nominale....................... 8 ohms

Potenza applicabile......................... 30 W RMS (AES)

{tab= Specifiche Meccaniche |grey}

SUB28........................................... 252 x 450 x 500 mm

Finitura cabinet.............................. 15mm di compensato, laccato nero con vernice epossidica; altri colori disp. su richiesta

Peso............................................. 17 Kg

Misura cabinet Qube3..................... 110 x 110 x 80 mm

Finitura cabinet.............................. 15mm di compensato, laccato in vari colori Peso............................................. 0.8 Kg

{tab= Amplificazione |grey}

Potenza erogabile.......................... SUB28: 2x 190 W classe D

Qube3: 2x 190 W classe D

Ingressi audio.................................analogici bilanciati;

impedenza nominale 10 kohm

Connettori.......................................2 xlr femmina (dx e sx)

Piedinatura Xlr................................1: terra, 2: positivo, 2: negativo DSP..................................................risoluzione: 24 bit / 96k Hz

Range dinamico: ...........................113 dB

Alimentazione................................Connettore a norma IEC

Tensione in ingresso: 115 V - 250 V + 10% (selezione automatica)

{tab= VARIations |orange}RubiQ è disponibile in vari colori (scala RAL) ma per i più esigenti è possibile ordinare i satelliti in legno massello in diverse essenze.RubiQ Variations{/tabs}

{tab= Accessori |grey}

Staffe per il montaggio a soffitto o a parete (non incluse): Omnimount AB1{/tabs}

{tab=ACOUSTICAL |grey} Frequency response (1) .....................42Hz - 22'000Hz + / - 3dB (SUB28: 42 - 180Hz; Qube3: 180 - 22'000Hz) Phase response ................................ 350Hz - 10KHz + / - 45° Maximum peak SPL (2) .....................118dB Coverage ..........................................Horizontal: 100° {tab=TRANSDUCERS |grey} SUB28 ............................................... 2 x 8" long excursion, low distortion cone driver Nominal impedance ........................4 Ohms Power Handling ...............................120W RMS (AES) (4) Qube3 ...............................................1 x 3" full range cone driverNominal impedance ........................ 8 Ohms Power Handling ............................... 30W RMS (AES) (4) {tab=MECHANICAL |grey}SUB28 size (WxHxD) ........................252 x 450 x 500 mm Cabinet finish ....................................15 mm plywood, any colours Weight ...............................................17 KgQube3 size (WxHxD) .........................110 x 110 x 80 mmCabinet finish ....................................15 mm plywood, any coloursWeight ...............................................0.8 Kg {tab=AMPLIFIER MODULE |grey}Output power ..................................... SUB28: 2 x 190W Class D Qube3: 2 x 190W Class DAudio input ........................................Type: Analogue differentiel balanced input circuit, Nomimal impédance: 10K Ohms Connectors: 2 x XLR female (L / R) XLR wiring: 1= GND, 2= Hot, 3= Cold DSP ................................................... Resolution: 24bit / 96KHz Dynamic range 113dBAC power ..........................................Connector: IEC Main connector Input Voltage: 115 - 250V nominal + / - 10% Input voltage selection: Automatic {tab=OPTION |grey}Mounting bracket for wall and ceiling. Omnimount AB1 series (not included){/tabs}

{tab= Accessori |grey}

Staffe per il montaggio a soffitto o a parete (non incluse): Omnimount AB1{/tabs}